Picture(s) needed
Please do NOT send pictures out of books, magazines, or off other web sites unless you own the rights to the photo.

Paint Horse
(Pinto)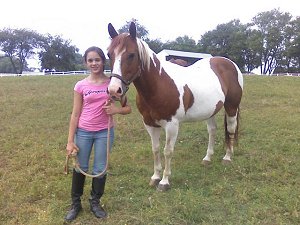 Brandy and her favorite horse Star Bar. Star Bar is a Skewbald Paint Horse notice his unique markings.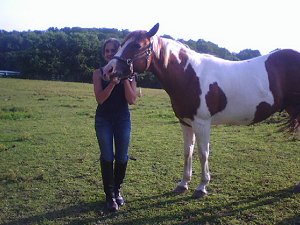 Brandy and Star Bar
_______________________
| | |
| --- | --- |
| | Horses with mixed colored coats are also known as piebalds and skewbalds. The paint Horse is particularly associated with the American Indians. In America a horse with this type of coloring may be considered as a Paint Horse or a Pinto. The American Horse Association was developed in 1962. It was established to provide a register for horses with these unique color patterns. To qualify for registration with the APHA horses must be bred from registered American Paint Horses or then can be bred from registered American Quarter Horses or Thoroughbreds and they must meet a minimum color requirement. A horse with a more solid-colored coat must have a "natural" Paint marking, Which would be defined as an area of solid white hair with underlying un pigmented skin. A horse with a mainly white hair coat must have a contrasting area of color such as brown or black with some underlying pigmented skin. These marking should be noticeable when the foal is born and when you are registering. |
| Conformation | Because horses of various breeds may have the paint horse pattern there is no true conformation. However the paint horse has a distinct stock type conformation. This can be defined as an animal whose bone and muscle are constructed in such a way to make it highly adaptable to ranch work. It will be both versatile and athletic. |
| Height | Any |
| Color | Paint markings (brown and white or black and white) |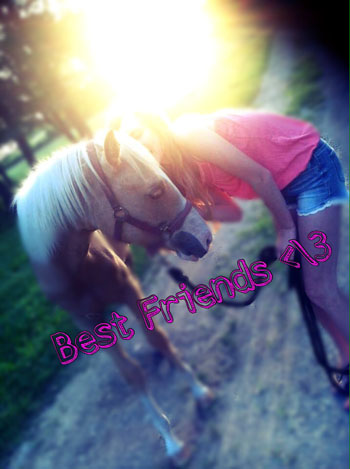 This is Maggie's Golden Glory aka "Goldie". She's a 2 year old, green broke, APHA Registered paint filly who loves naps and to be brushed.
__________________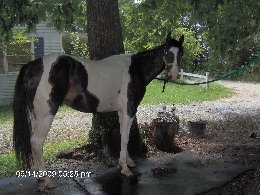 Rhett (Houdini) is a 2 yesr old Paint that stands at 14.2hh and is still growing. Although he is an escape artist, he is still good with the 4 year old that rides him.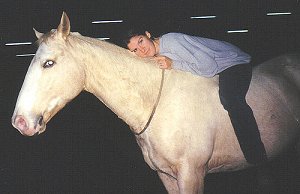 "This is Taylor, he was a registered APHA Paint. "His Daddy, a gorgeous blue roan, was a Paint. His momma was a palamino Quarter Horse. Taylor had just too much white on him (white face, white spot on his cheek, and a white spot on his belly) to be registered as a Quarter Horse which is why he ended up "technically" a Paint"."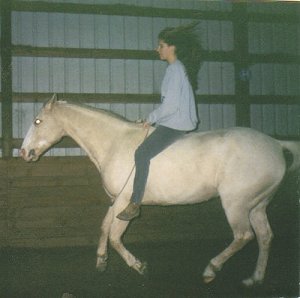 Traci Riding Taylor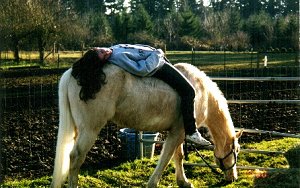 "In Loving Memorey of Taylor."
__________________