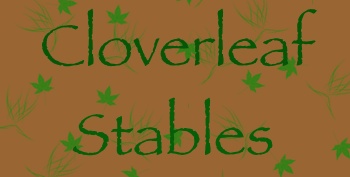 Located at:
212 Woodlawn road
Wilmington, DE, 19803
Cloverleaf Stables is on Facebook!
Cloverleaf Stables is the place to be! They offer lessons to all ages on there gentle horses who have plenty of experience with all levels and skills of riding. Whether your a beginner who wants to learn how to ride and take care of a horse or you have experience and just want to head out on the trails. I learned how to ride at Cloverleaf Stables have met many new friends. The camps are a lot of fun and help you understand how to care for a horse. At the camps you get assigned a horse for the week. That is your horse to ride and care for while your there. Now that I have my own horses, I bring them to Cloverleaf to go riding with my friends.
several locations:
Barn #1 Woodlawn rd, Wilmington DE
Barn #2 Beaver Valley rd, Chadds Ford PA
call # 484 841 6230
-Boarding
-Trail rides
-Pony & Hay ride
-Party's
-Lessons
-Summer camps
-Gift certificates
Horse Breeds | Horseback Riding Styles | Horse Health