Fun and Interesting Horse Facts
Page 5
-In 1992 horses represented a $15.5 billion industry in the U.S.
-In 1867 the number of horses and mules went from 7.8 million to 25 million in 1920, this happend due to motor vehicles. In 1884 there were approximately 15.4 million horses in the U.S. In 1987, there were approximately 6.6 million horses in the U.S. By 1991, the number dropped to 4.9 million.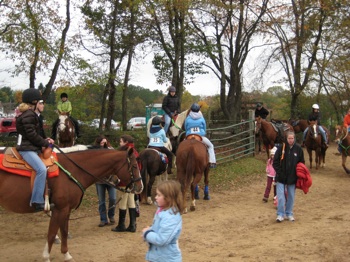 -Each year in the U.S., 27 million people ride a horse.
-Selective horse breeding has been practiced by the Arab tribes since at least the 7th century. Some scholars believe it may have been established on the Arabian peninsula as early as 5,00 b.c.
-As a child, Caroline Kennedy (b. 1957;John F. Kennedy's [1917-1963] daughter) had a pony called Macaroni. Her brother John (b. 1960) Had a pony called Leprechaun.
-Halls of Fame:
The Trotting Horse Hall of Fame, Goshen, NY.
The Rodeo Hall of Fame, Oklahoma City, OK.
The Horse Racing Hall of Fame, Saratoga Springs, NY
The National Cowgirl Hall of Fame, Hereford, TX
The show Jumping Hall of Fame, Tampa, FL.
-There is an International Horseshoeing Hall of Fame, but it is an annual awards program without a physical hall.
-The ancient Chinese names that were invented for the wheelbarrow were the 'gliding horse' and the 'wooden ox'.
-A ' furlong' is the measurement used at race tracks and the British 'furrow-long,' the standard length of a farmer's field. A furlong = 220 yards. One Miles - the distance around most racetracks = 8 furlongs, as 1 furlong = 1/8 mile.
-British villages: Horsey; Donkey town.
-The name of the Scottish town Horseburgh means 'brook of the horses.'
-Places named Horseford were called that because they were at fords which could only br crossed on horseback. Horsefield means 'horse pasture.'
-Maryland and Virginia both have yearly Horse Festivals
-Oklahoma has an annual Horse Festival.
Horse Facts 5